Best Child GPS Tracker to Find Android Location in 2022
If your kids are old enough to get a smartphone then they might be old enough to hang out by themselves. Of course you can call them at any time to know where they are, but this is not always the truth. Is there any way to track Android device? Absolutely yes! Among the various Android GPS tracker, we've compiled the top 5 in terms of features and performance.
1. FamiKit
FamiKit is an Android parental control app that can be found on Google Play Store. To use this app to track your kid's GPS location, FamiKit app needs to be installed respectively on kid's android and parent's. From parent's device, you can track kid's current location as well as location histories for last week. Also, guardians can use FamiKit to set geofences and get alerts when kids arrive or leave the defined areas.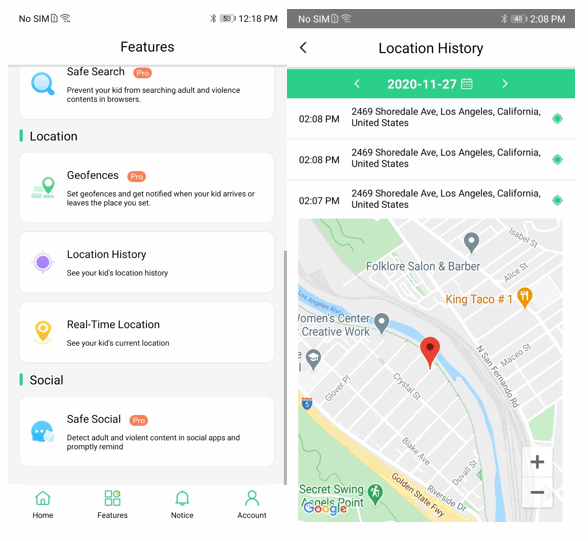 Features of FamiKit
Track real-time location and check location history
Set geofences and get alerts
Set app time limits and block app usage
Track browser history and block websites
Track YouTube watch history and block video or channels
How to Use:
Step 1: Sign up FamiKit with email to create a FamiKit account.
Step 2: Go to kid's Android to download and install FamiKit from Google Play Store. Launch the FamiKit app on kid's device and sign in with the account you created before, and select kid's role to grant permissions required according to the instructions given on the screen.
Step 3: Back to parent's device and install the FamiKit in the same way. Launch FamiKit app and sign in with the account, and select parent's role to start remotely tracking kid's GPS location. From the top of the Home page, you'll find kid's Android live location. Click the refresh button and you'll get the latest information. Tap Features > Real-Time Location, your kid's current location can be accessed here as well. Tap Location History then toggle on the switch next to Enable Location History, you are able to track kid's location time line for last 7 days. Tap on Geofences, parents can create a safe zone for kids and get alerts when they arrive or leave the area.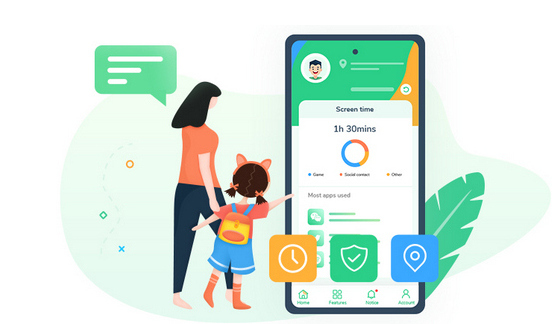 Manage Screen Time
Track Location and Set Geofences
Track Browser History and Filter Website
Monitor and Block YouTube
Safe Social and Safe Search
2. PanSpy
PanSpy is a professional monitoring tool for Android which can be used to track location and location histories as well as set geofences. With PanSpy apk installed on your child's Android, parents can track almost all app activities.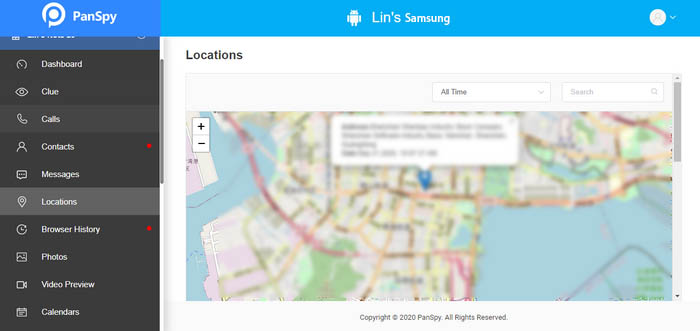 Features of PanSpy
Track Cell Phone Activity: Call logs, Messages, E-mails, Document, Calendar, Photo, Video, Apps and more.
Track Current Location: GPS, Geofencing, WiFi logger.
Monitor Social Apps: WhatsApp, Skype, Facebook, Instagram, Snapchat, Line, Kik, Tinder, Hangouts and more.
Remote Control: App blocker, Schedule restriction, Website Filter.
---
3. Find My Device
Find My Device is exclusively developed by Google for locating mobile device. It is fully compatible with almost all Android versions and maintains information safely. To track someone's location, you need to sign in your Google account and turn on Location Service on the device.
Features of Find My Device
Misplaced Devices can be easily found from this Android location tracking app.
User-friendly GUI, easy to use. Track the location/ sites without any hassle.
Using its Play a sound feature, you can remotely trigger the device to play a sound so that you can locate it if it is nearby.
If the target device is formatted, it become impossible to track the device.
---
4. Glympse
Glympse is a spontaneous all-round GPS tracking app for Android that has unrivalled power to track location without compromising your privacy. This app is especially ideal for groups of friends or office contacts who only want to temporarily share one another's location. You can easily track a delivery, know the exact location of friends and colleagues, or inform people in your contact about their location.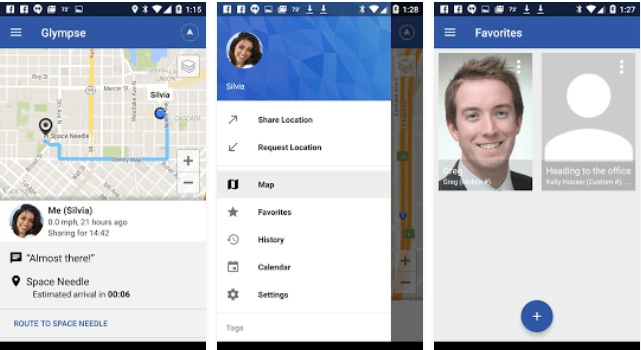 Features of Glympse
Keeps your privacy intact and uninterrupted.
Helps in business by tracking real-time location of employees.
Customizable settings to enable personalized tracking.
Easy-to-use, intuitive and social interface.
---
5. Norton Family
Norton Family Parental Control is a mobile application designed for parents to protect their kids. This parent tracker app will help you in locating the location of your kid without them knowing.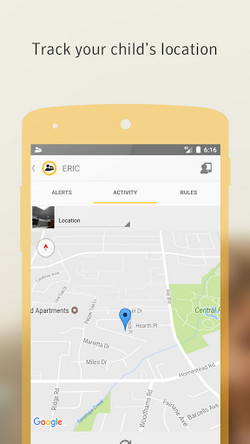 Features of Norton Family
Easily access the location of your kid device without knowing.
Website blocking is also possible with the help of Norton Parental Control.
Track web browsing history including YouTube history, and web browser.
---
Summary
As a parent, it's good to know where kids are to ensure their safety when kids are at school or hang out. There are lots of useful Android GPS trackers that can track kids' real-time location and FamiKit is one of the apps which is highly recommended by users. Importantly, FamiKit has other useful parental control features like screen time management, app time limits, website filter, YouTube monitoring and more. Just create a FamiKit account and set it up to start tracking.