How to Setup Your Samsung Galaxy S21 Ultra in Advance in Case of Loss
The new Samsung Galaxy S21 has been released alongside its Plus and Ultra models, if you just bought a new Samsung Galaxy S21/S21 Plus/S21 Ultra for yourself or your family, it's wise to set it up in advance in case that you left it somewhere or get it stolen. You can locate the lost device then after set it up, at least you can erase the device remotely so that others cannot see your personal data even if they have it. So now let's see how to do some settings to prevent your device from getting lost or stolen.
Method 1: Install FamiKit app to get real-time location of Samsung Galaxy S21
FamiKit is an all-around parental control app which is designed to help you monitor your kid's all activities on smartphone. And it allows you to know the device's real-time location and location history. If you bought the Samsung Galaxy S21 for your child, you can install FamiKit on the Samsung Galaxy S21, not only you can know the real-time location of the device, but also you can monitor the usage of your kid's smartphone.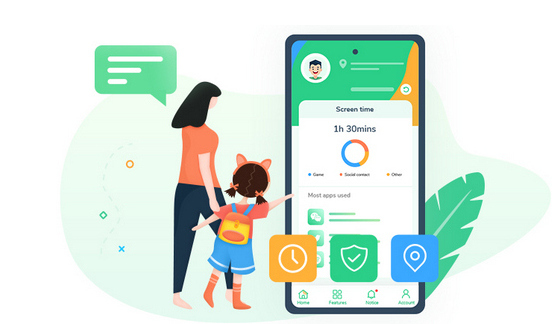 Set appropriate phone screen time for kids.
Block certain websites by categories on kid's device.
Know device real-time location and set a safe area.
Set time limit for each app or block certain apps.
Protect your kid's safety on mainstream social apps.
You can click on the download button below to get the app from Google Play Store. Or you can turn to its download page, it offers several ways to download the app, you can choose a preferable one to download the app to your Samsung Galaxy S21.
Now turn to your own device, install FamiKit and sign in the same account you logged in on the Samsung Galaxy S21. Click on Features > Location option, you can see the real time location of the device or you can see the location history as well.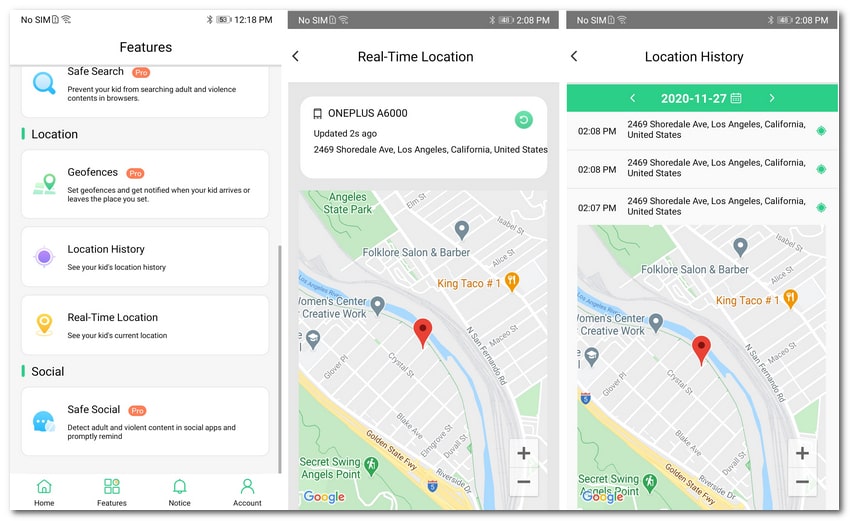 Method 2: Set up Samsung Galaxy S21 with Google Find My Device
Google Find My Device service can be used to locate your lost Android device, lock or erase your device remotely. So if you set up your Samsung Galaxy S21 using a Google account, you can then use Google Find My Device service to locate the lost Samsung Galaxy S21 or erase the device remotely. Let's take a look at how it works.
Step 1: Firstly, open Settings on the device, scroll down to find Google and make sure you have signed in your account. And then tap on Security > Find My Device, turn it on.
Step 2: To locate the device, please go to Google Find my Device website or you can download the app on any other of your Android and iOS device. Sign in the same Google account which you signed in your Samsung Galaxy S21.
Step 3: Select the Samsung Galaxy S21 if the account linked other devices as well, now you are able to locate your lost or stolen Samsung Galaxy S21, the site/app will show the current location of the device, if the device has no network connection or turned off at the time, it will show the last location of the device. Besides, it also gives you 3 more options: Play Sound, Secure Device and Erase Device. If you make sure that you cannot find the device back, you can choose to erase the device to protect your data.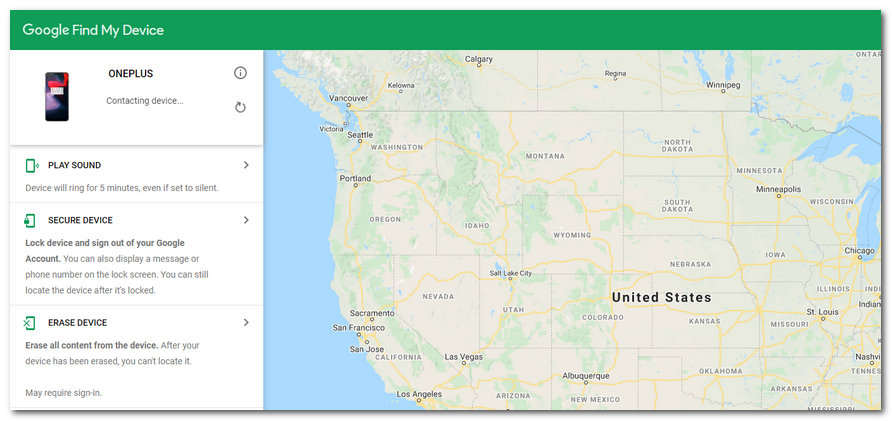 Method 3: Set up Samsung Galaxy S21 using Samsung's offering
Besides of Google's Find my device service, Samsung users have another option to locate your lost device, that's Samsung's Find My Mobile. So you can also set up your Samsung Galaxy S21 with Samsung Find My Mobile in case of loss.
Step 1: Firstly, go to Samsung find my mobile site, and then sign in with your Samsung account. Similarly, you will see all your Samsung device linked with this account.
Step 2: Choose the Samsung Galaxy S21, and you can see its current location in the middle of the page. If your Samsung Galaxy S21 doesn't have an Internet connection or powered off, the last known location will be listed there.
Step 3: Similar to Google, you have three options there as well: Lock down it, ring it or directly erase the device. If you feel it's impossible to find it back you can choose to wipe all data.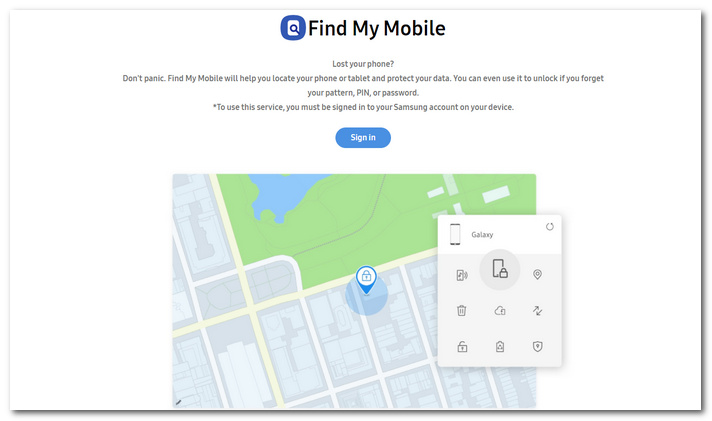 Besides of Samsung Find My Mobile, Samsung announced a new service called SmartThings Find recently. The new feature works like Apple's Find My app, which crowdsource the location of a lost device even if it's offline, but telling nearby Galaxy devices to look for its Bluetooth signal and report its location if it's found. You can setup your Samsung Galaxy S21 with Samsung SmartThings Find App in case of loss with the steps below:
Above all, you need to have another Galaxy device running Android 8 or later. And then go to your Samsung app store or Google Play Store to download or update to the latest version of SmartThings Find app. You just need to follow the tips to tap several clicks then you will see all your Samsung devices on the map linked to your account.
Moreover, there are more options to let you lock down your Samsung device or erase it. You can choose to erase the device in case you can't get your device back.
Summary
All methods have been introduced above to help you set up your Galaxy S21 in advance in case of loss. I hope that you will never lost your new device but it's always wise to set up these services as precaution so that you have the chance to get your device back once you get it stolen or lost. And remember to share this article with others if you think it helpful.