How to Stop Your Child from Being Internet Addiction
The Internet has a huge attraction for teenagers, most kids like computer games and surfing the Internet. Young people are especially vulnerable and are at particular risk of developing Internet addiction disorder (IAD). IAD leads to academic performance plummets and other health problems, both mentally and physically. These kids stay up late to chat online, view social network posts or play computer games.
So if you found your kid spent massive time and energy online or on computer games, you'd better to take some actions right now to prevent she/he from being Internet addiction. The good news is, there are lots of effective tools you can use to make it. This article is here to introduce you one of the most powerful tool to help your child get rid of Internet or computer addiction.
FamiKit is an all-around parental control app which is designed to help parents control their kid's digital device (computer or mobile device) usage and form good habits. With FamiKit, you can easily get aware of all kinds of activities on your kid's device and set limit on it.
To limit the usage of your kid's device, please follow the step-by-step tutorial below:
Step 1. Create a FamiKit account.
Firstly, on your own smartphone, go to FamiKit official site and click on Sign Up button on the upper right corner to create a FamiKit account with your email address. Or you can create one after you install the FamiKit app.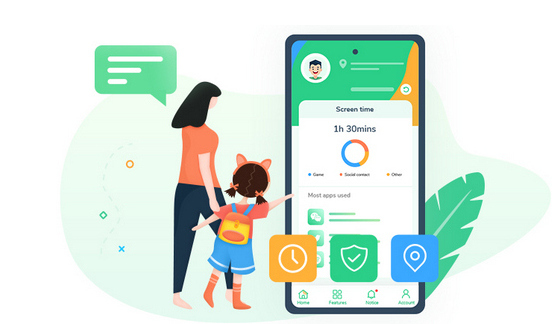 Set appropriate phone screen time for kids.
Block certain websites by categories on kid's device.
Know kid's real-time location and set a safe area.
Set time limit for each app or block certain apps.
Protect your kid's safety on mainstream social apps.
Step 2. Install FamiKit app on both devices.
On your own device, open Google Play Store, search FamiKit on it. Or you can click on the download button below to get the app from Google Play Store; On your kid's computer, go to FamiKit official download page, find the Windows version and download the program on your kid's computer, install the program after downloading it successfully.
Step 3. Set up FamiKit on both devices.
On your kid's computer, sign in your FamiKit account. Enter your kid's name and age to continue, FamiKit will be activated and run in the background. Now turn to your own device, sign in the same account you logged in on your kid's device, choose "Parent" to continue, and select Windows option when ask you to choose your kid's device system. After done all these settings, you will enter the main interface of the app.
Step 4. Check screen time and set limit.
Now you can check the screen time and app usage on the main interface, and you can set limit on the computer usage of course. Tap on Features, click on Screen Time or App Usage, you can set time limit for screen time or single app, and then tap on Save button to activate your settings. Your child won't be able to use the computer or apps after reaching the time limit. So it's recommended to set a maxmium time that your kid can use the computer each day to help him/her form good habits and get rid of computer addiction.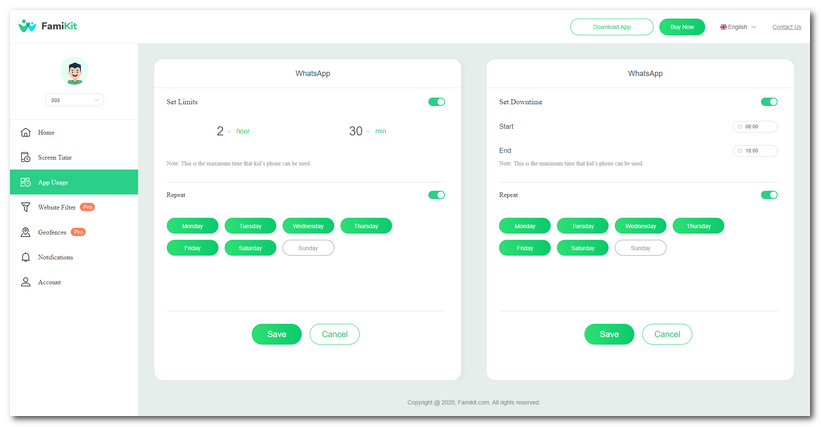 As you can see, with FamiKit, you can easily check how long your kid uses his/her computer on your smartphone, and send command or set time limit remotely in order to help him/her form good habits. FamiKit runs in the background, and your child can't stop or uninstall it without your passcode. Moreover, FamiKit now gives each new user 7 days free trial with all features available, I sincerely recommend you to have a try.
Keep in mind that limit the usage of your child's computer or smartphone is not the fundamental solution to the IAD. You need to spend more time with him/her and take him/her for lessons, sports or other outdoor activities. And if you have any other problems after reading this tutorial or using FamiKit, please contact us to share your thoughts, we are glad to hear from you. And share this article with others if you think it helpful.