How to Set Parental Control on OnePlus 8T
Nowadays, most of teenagers own a smartphone, which was bought by their parents or themselves. A smartphone can bring them much convenience for getting in touch with others on one hand, it also lets them be addicted to the mobile games or social media on the other hand. So maybe you feel worried for your kids to spend much time on the smartphone rather than their study or other exercise, you need to take some actions to stop them being smartphone addiction. You can set parental control on their smartphone. And this article teaches you how to set parental control on your kid's OnePlus 8T. And let's get started.
FamiKit is a professional parental control app which helps parents take full control of their kids' smartphone. Only several simple steps you can limit the usage of kid's smartphone, set limit on screen time/app usage, know your kid's real-time location and filter adult websites etc.
Key Features of FamiKit
Limit screen time: Monitor how much time the kids spend online and set a phone screen time for kids.
Block certain apps: Learn how much time your kids use the app on device, and set time limit for each app or block some certain apps.
Set Geofences: Be aware of your kid's real-time location and set a safe area for them.
Filter inappropriate contents: View kids' browsing history and block certain websites by categories.
---
How to Set Parental Control on OnePlus 8T with FamiKit
Step 1. Create an account.
Go to FamiKit official website then click on Sign UP button on the upper right corner to create a FamiKit account with your email address. Or you can create one after you install the FamiKit app.
Step 2. Download and install app.
Go to download page to install FamiKit app on your (parent) device then login with your account. Select Parent when asking "Who use this device". Likewise, install FamiKit app on your kid's OnePlus 8T device and login with the same account. You should select kid's role this time and then follow the instructions given to fully authorize permissions required.
Step 3. Set parental controls on your kid's device.
Now turn to your own device, and you can set parental controls for your kid's OnePlus 8T, including Screen Time, Website Filter, GEO fences etc. You can click on Features tab, and then set each feature as you like. Your kid's OnePlus 8T cannot be used anymore once reached the maximum time you set.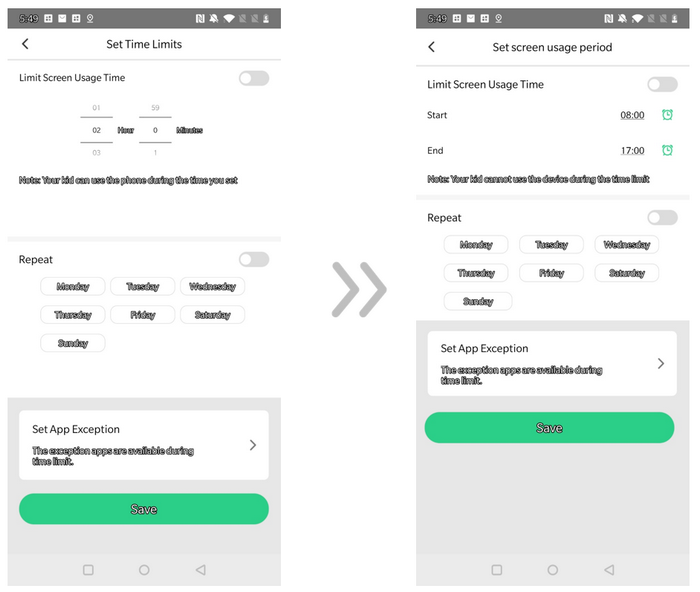 Set parental control on your kid's OnePlus 8T with Family Link
Similar to FamiKit, Family Link app was designed by Google to allow parents to monitor the smartphone usage of their children. To use Family Link, your child's device needs Android 5 and above, and let's see how it works.
Step 1. Set up Family Link on your kid's OnePlus 8T.
On your child's OnePlus 8T, open Settings, scroll down to find Google > Parental controls. Click Get started, and select Child or teen.
Click Next button to continue. Select your child's Google account or create a new one for them. Click Next and then sign in with your own (parent) account.
Step 2. Install Family Link on your own phone.
For parent, you need to have an Android device running Android 5 and above or an iOS device running iOS 9 later. Please download Family Link for Parents app on Google Play Store (Android device) or App Store (iPhone), and after you installed it successfully, you can change parental control settings and remotely manage your child's Android device.
Step 3. Set parental control on your kid's OnePlus 8T
With Family link, you can set limit on screen time or each app usage time. And it also enables you to put restrictions on purchase & download, filter adult contents or some results on Google chrome as well as YouTube contents. With all these restrictions, you can take full control of your kid's OnePlus 8T device.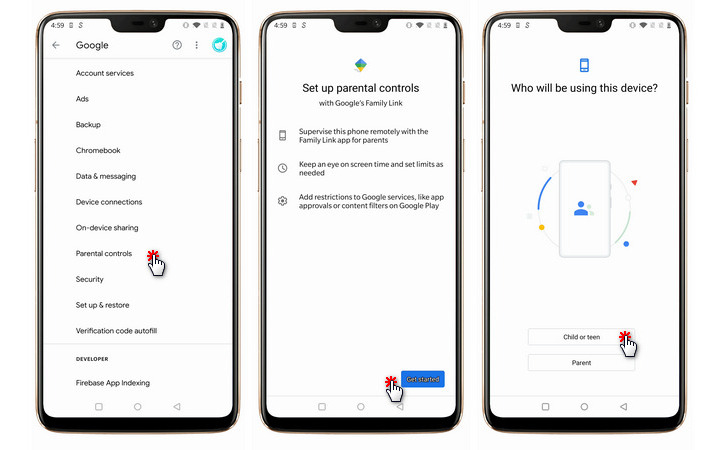 Summary
The methods have been introduced to you above to help you set parental controls on your kid's OnePlus 8T device. Keep in mind that you need to help your kid develop more hobbies so that they can spend time without the smartphone, your kid is more important to you than anything else, so put more time on her/him. And if you found this article helps, please share it to your social media, or contact us to share your thoughts.