Block Porn or Adult Websites on Kid's Samsung Galaxy S21/S21 Ultra
Are you worried that your kids may be exposed to porn or adult websites on Samsung Galaxy S21/S21 Ultra? Looking for ways to block pornographic websites on kid's mobile device? A study finds that 42% internet users for ages 10 to 17 have been exposed to online porn and two thirds of this is unwanted exposure. Using parental control apps can help you one-click block common adult websites remotely and customize site access as you wish. In this article, you'll discover 4 ways to block porn or adult websites on kid's Samsung Galaxy S21/S21 Ultra.
---
Part 1: Use Google Play restrictions
Turn on the restrictions on Google Play on kid's Samsung Galaxy S21/S21 Ultra can effectively prevent children from installing apps, games and other web resources that are not appropriate for their age.
Step 1: First of all, choose Google Play Store icon from the app list on kid's Samsung Galaxy S21/S21 Ultra.
Step 2: Then tap the menu sign in the upper left corner of the home screen and choose 'Settings', from which you need to choose 'Parental controls'.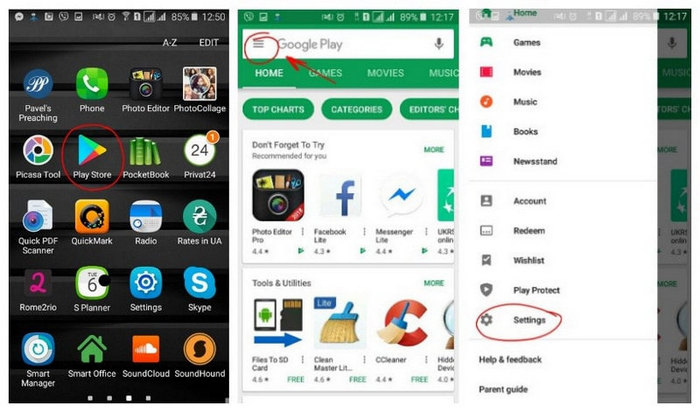 Step 3: After tapping it you will go to 'Parental controls' screen where you have to turn the feature on. Then you are allowed to create PIN and block the content you don't want your kids to have an access to. Also, you will use it to change parental control settings for this account. Do not tell PIN code to your child. And then you can set restrictions based on age rates for each category.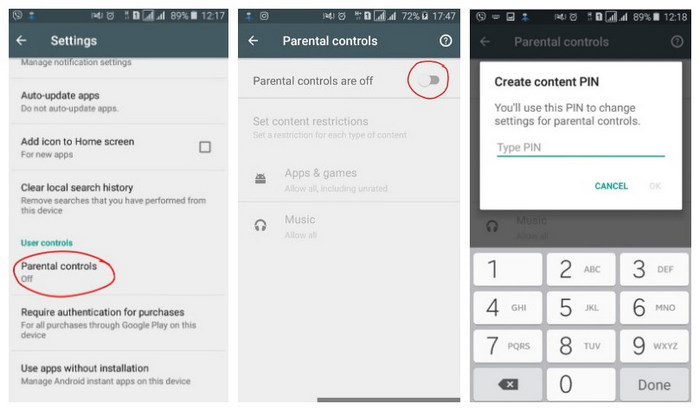 ---
Part 2: BlockSite
BlockSite is a browser extension and app for Google Chrome. It can be used to easily block any distracting or harmful websites for kids and block app use. Parents can install BlockSite to block any pornography websites on Kid's Samsung Galaxy S21/S21 Ultra. The details are as follows:
Step 1: Go to Google Play Store to search BlockSite, then download and install it on your kid's Samsung Galaxy S21/S21 Ultra.
Step 2: Launch the BlockSite app than tap on GET STARTED >> ENABLE ACCESSIBILITY >> BlockSite.
Step 3: Turn on Use Service and then tap on Allow when pop-up window asking to allow BlockSite to have full control of kid's Samsung. There will be a Premium pop-up and you just dismiss it by tapping the X button in the upper-left corner.
Step 4: Tap + icon to add your first website to block.
Step 5: Type the specific URL that you want to block or you can simply choose any suggested websites below, then tap the green checkmark in the upper-right corner to confirm.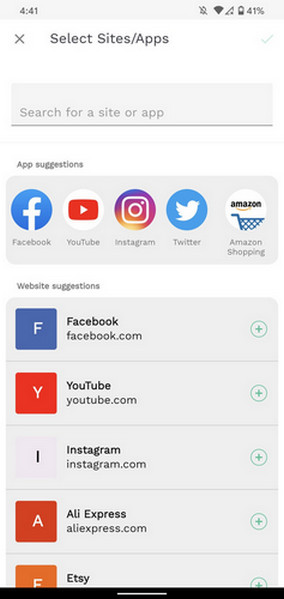 ---
Part 3: PanSpy
PanSpy is a great monitoring tool that can be used to one-click block adult websites for kids and track their browser history. Most parents use this app to track kid's app activities and set up parental controls on kid's phone as well. For how to block porn or adult websites on kid's Samsung Galaxy S21/S21 Ultra, we've listed detailed steps.
Features of PanSpy
Track Cell Phone Activity: Call logs, Messages, E-mails, Document, Calendar, Photo, Video, Apps and more.
Track Current Location: GPS, Geofencing, WiFi logger.
Monitor Social Apps: WhatsApp, Skype, Facebook, Instagram, Snapchat, Line, Kik, Tinder, Hangouts and more.
Remote Control: App blocker, Schedule restriction, Website Filter.
Sign up PanSpy
View the Demo
Step 1: Sign up PanSpy to create an account and then activate your account by clicking the link in the email sent by PanSpy support team.
Step 2: Go to Kid's Samsung Galaxy S21/S21 Ultra and enter panspy.me on browser to download and install PanSpy app on it. Sign in with your account and follow the instructions given on the screen to fully authorize permissions required.
Step 3: Visit PanSpy console panel from any devices with web browser. If you want to block adult websites for kid's Samsung, just tap on Website Filter on the left panel, then here comes website categories. Choose Adult and then turn on Prevent to block most common porn websites for kids. For blocking specific adult websites, just tap on Exceptional >>Add Exception, enter the URL you want to block, then choose Prevent to stop it from being accessed on kid's Samsung Galaxy S21/S21 Ultra.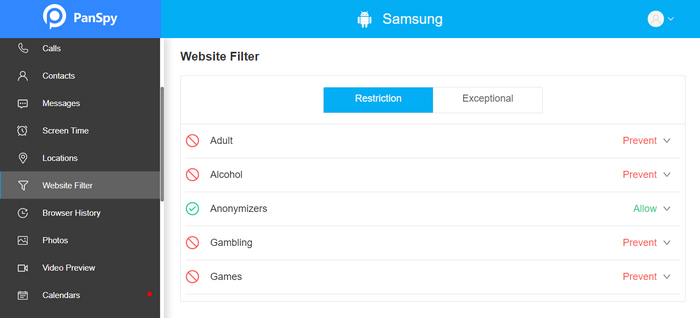 Step 4: Below the Website Filter, you will find Browser History which can automatically record URL, Title, Visit frequency, Last visit time and whether it is bookmarked.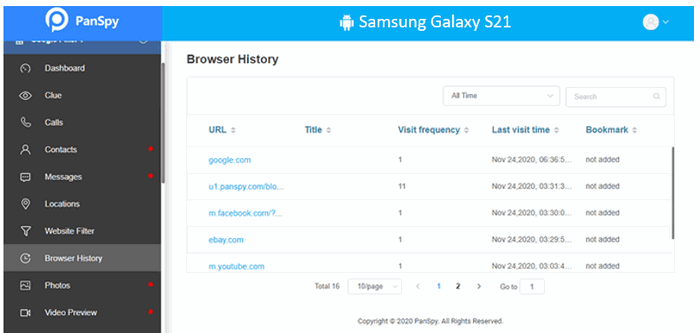 Part 4: FamiKit
Another useful parental control app that can be used to block porn or adult sites for kid's phone is FamiKit. Like PanSpy, it also supports to one-click block common adult websites, prevent specific URL as well as track kid's private browser histories. Furthermore, parents can use Safe Search feature of FamiKit to detect risky words on kid's mobile browsers and even prevent these bad words from being searched. Let find how FamiKit works to block porn sites.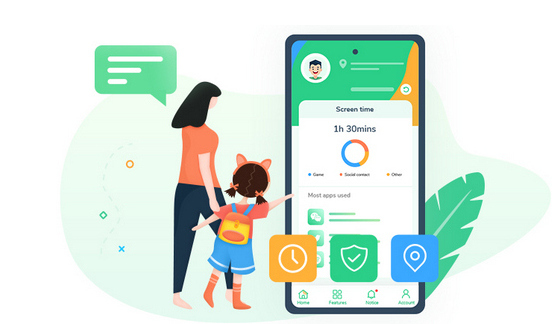 View kid's phone activities and get daily report
Create smart schedules and curfews
Block porn or any unwanted websites.
Get real-time location and track location histories
Set geofences and be notified
Detect risky words on browsers and social apps
Step 1: On parents' device, search FamiKit on Google Play Store to download and install FamiKit app. Create an account with email and sign in to choose parents' role.
Step 2: On kid's Samsung Galaxy S21/S21 Ultra, download and install FamiKit from Google Play Store as well. Sign in and choose kid's role to authorize permissions required. Once it is well set up, the uninstallation of FamiKit app requires password.
Step 3: Now back to parents' device, simply tap on Features >> Browser History, you can remotely access your kid's internet histories of Chrome, Firefox, Edge and other browsers for today, yesterday and even last 7 days. You can also click the icon beside each browsing link to block it or not.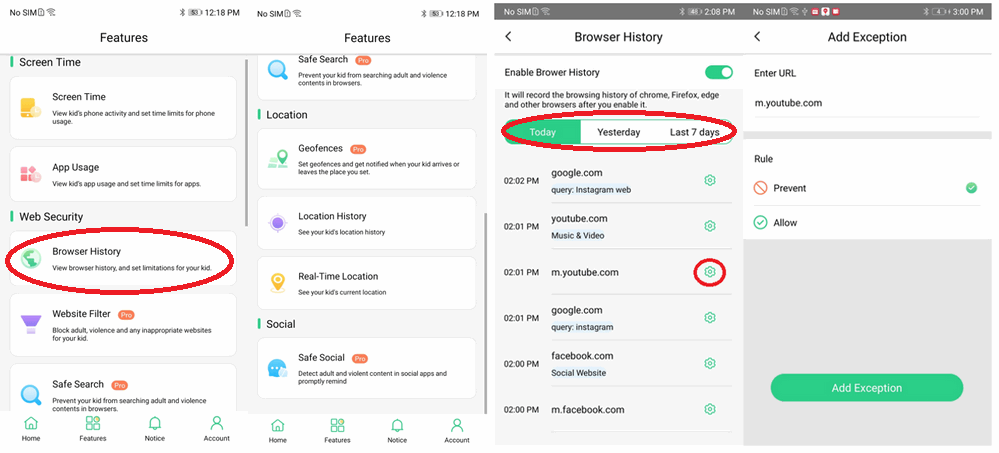 Step 4: Tap Website Filter, FamiKit gives chance to block websites by categories. To block adult websites, just Prevent Adult Content. For blocking certain porn sites, simply tap on Exception to add certain URL to block it.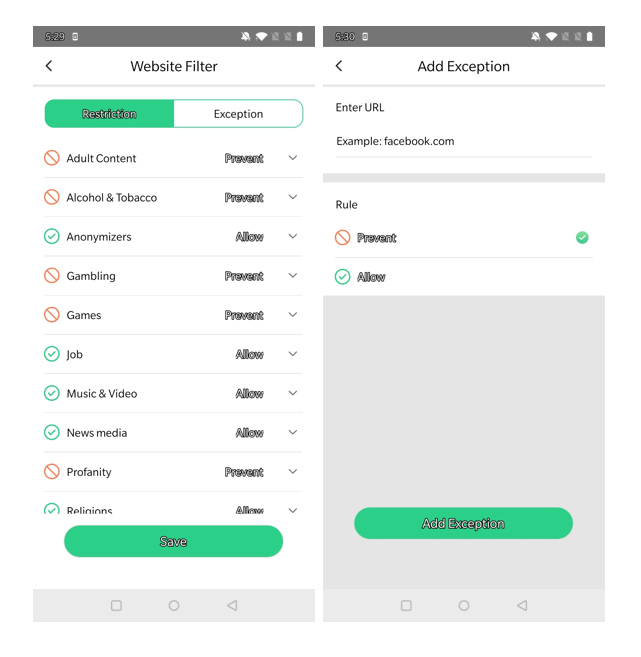 Step 5: Tap Safe Search, FamiKit can automatically detect risk words and prevent them being searched on kid's Samsung Galaxy S21/S21 Ultra. You can also customize risky phrases by tapping on Exception.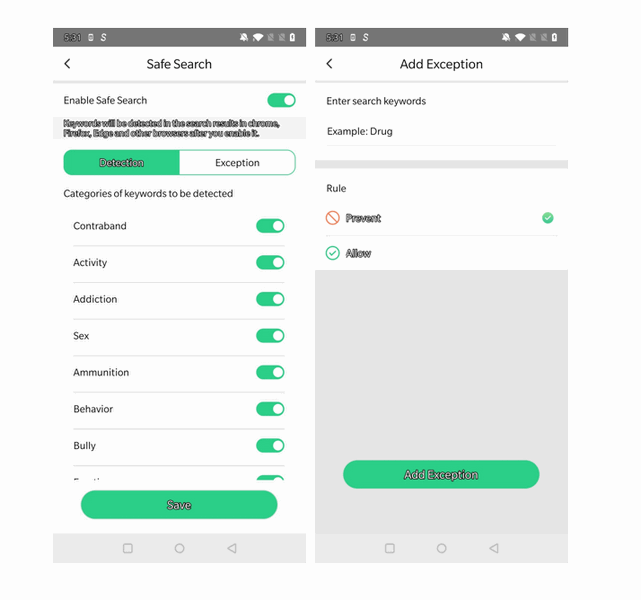 Summary
Above 4 methods of blocking porn or adult websites on kid's Samsung Galaxy S21/S21 Ultra, we highly recommend FamiKit. With FamiKit app installed on kid's Samsung phone, parents can remotely track their browser histories and decide to block them or not. Most importantly, it supports to one-click block common websites like adult, violence, gamble and more. Also you can customize site access and detect risky words on kid's various browsers. Other features of FamiKit such as screen time management, location tracking, app time limits and more are available.