How to Track Someone's Browser History without Phone?
How do I check my kid's google browser history without touching his phone? Many parents have been there, wondering to remotely access their kid's browser history thus taking actions to protect their online safety. If you have access to their phone for checking, then it is quite easy to find web history. But in most of the case, we are not allowed to do so. So in this article, we are going to show you guys 2 feasible ways to track someone's browser history without phone.
---
Part 1: Why People Need to Track Someone's Browser History?
Parents- A lot of concerned parents may wonder whether their kids search for any inappropriate websites like porn, violence, drugs and others. Finding kids start paying attention to those stuff, parents will do something to curb this and try to prevent anything bad from happening.
Spouses- People in relationship always want to find out what he or she is searching for after spending long hours on smartphones.
Employers- Boss may want to figure out what employees browse in working hour to make sure that they are not doing something that has nothing to do with their job.
---
Part 2: Remotely Track Your Kid's Browser History with FamiKit
If you want to remotely track your kid's browser history and app activities as well as control his or her smartphone usage on your phone, FamiKit with key features of screen time management, location tracking, website filter and geofencing can totally do this for you. For how to remotely track your kid's browser history of Chrome and other browsers with FamiKit, 3 simple steps will get you there.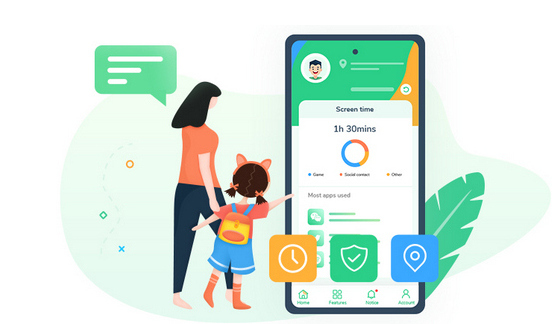 View kid's phone activities and get daily report
Create smart schedules and curfews
Block porn or any unwanted websites.
Get real-time location and track location histories
Set geofences and be notified
Detect risky words on browsers and social apps
Step 1: Download and install FamiKit App from Google Play Store to parents' device and then create a FamiKit account with email address. When you sign in your account in parents' device, remember to select parent's role and then you'll asked to set up FamiKit on your kid's device.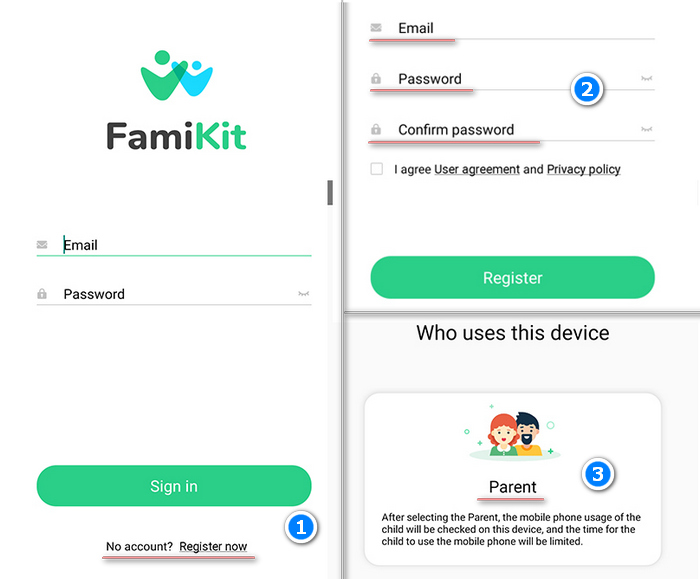 Step 2: Likewise, download and install FamiKit app from Google Play store to your kid's device and sign in. Select kid's role and follow the instructions given on the screen to fully authorize FamiKit to access kid's phone. Once it is well set up, the uninstallation of FamiKit app requires password.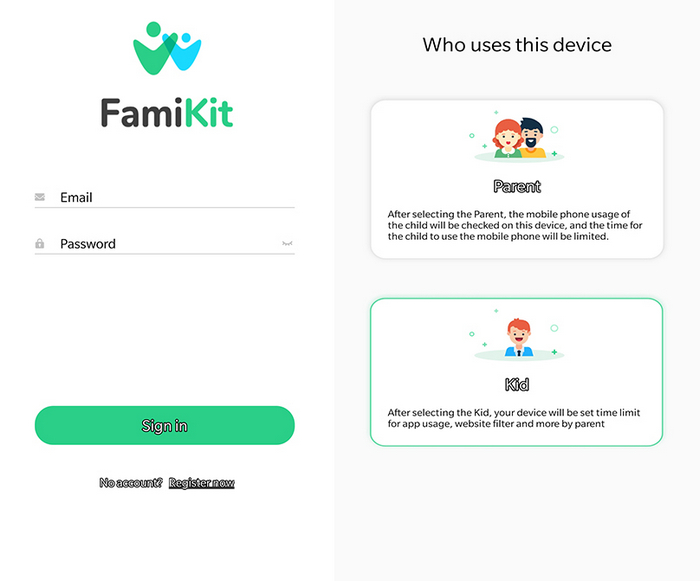 Step 3: Now on parents' device, simply tap on Features >> Browser History, you can remotely access your kid's internet histories of Chrome, Firefox, Edge and other browsers for today, yesterday and even last 7 days. You can also tap on your kid's browsing histories and decide to block or not.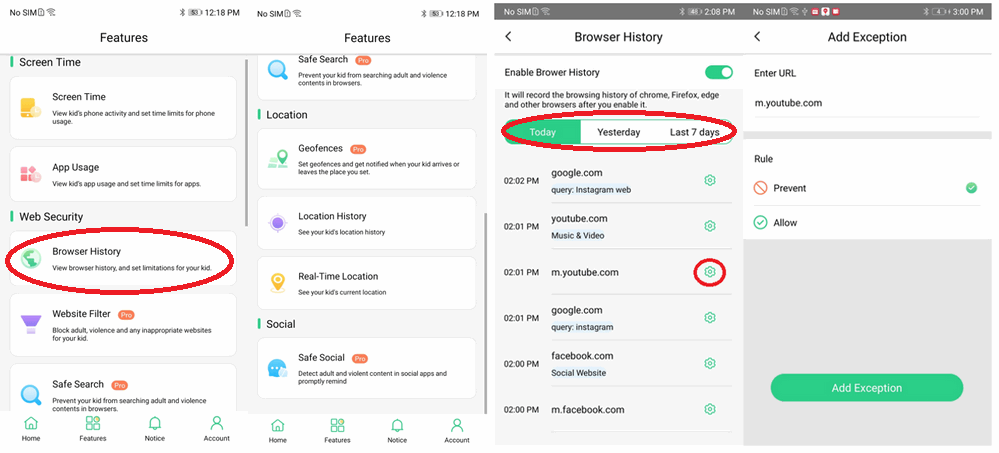 ---
Part 3: Secretly Track Someone Else's Browser History with PanSpy
PanSpy is a professional mobile monitoring tool for tracking in stealth mode. It is quite easy to set up on Android without rooting. Apart from secretly accessing someone's browser history, you can also remotely track contacts, messages, photos, videos, email, WhatsApp, Facebook, Twitter, Snapchat and more social apps. Other features like location tracking, geofencing, screenshot capturing, schedule restriction and website filter are supported as well. For how to secretly track someone else's browser history with PanSpy, just follow the steps below.
Step 1: Sign up PanSpy with valid email address and then refer to the email sent by PanSpy support to activate your account.
Step 2: Go to your kid's Android and enter panspy.me on browser to download and install PanSpy app on it with permissions required fully authorized. For how it works, you can also refer to this page to set up it.
Step 3: After PanSpy app is successfully set up on target Android, now you can remotely access browser histories by tapping on Browser History on PanSpy console panel which is available for both computer and mobile devices. Here you'll find the URL, Visit frequency, Last visit time and whether it is bookmarked.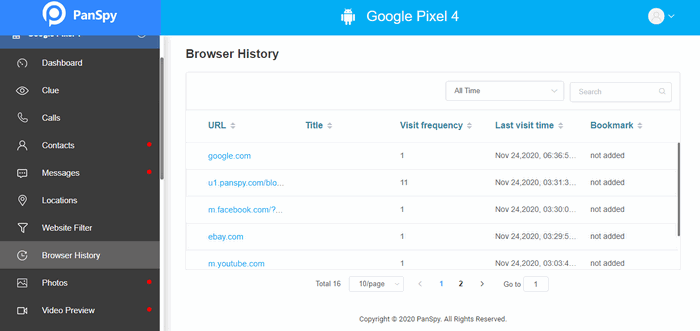 Other features of PanSpy that can't be missed
Track Cell Phone Activity: Call logs, Messages, E-mails, Document, Calendar, Photo, Video, Apps and more.
Track Current Location: GPS, Geofencing, WiFi logger.
Monitor Social Apps: WhatsApp, Skype, Facebook, Instagram, Snapchat, Line, Kik, Tinder, Hangouts and more.
Remote Control: App blocker, Schedule restriction.
---
Part 4: Physically Access Someone's Browser History on Chrome & Safari
If you have chance to physically access someone's mobile phone, then you can follow the steps below to figure out how to track Internet history both on Google Chrome and Safari.
Track Google Chrome browsing history:
Step 1: Launch Chrome on device, find its menu and then tap on History. Here you'll find all browser histories listed.
Step 2: Tap on Clear browsing data…, you can choose time range and clear the data of Browsing history, Cookies and site data as well as Cached images and files. Tap on ADVANCED, you are able to clear data of Saved passwords and Autofill form data as well.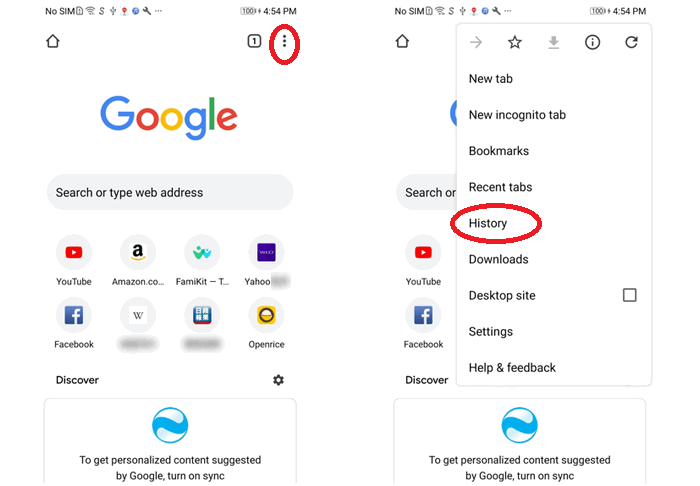 Track Safari browsing history:
Step 1: Firstly, launch Safari and then click on bookmark icon on the bottom of the screen.
Step 2: Tap on History option which is the third icon on the top of the bar to get browsing histories.
Step 3: If you want to delete the Internet histories, you can simply click on Clear which enables you to clear from All time, Today and yesterday, Today and The last hour. You can also remove the internet histories by referring to Settings >> Safari >> Clear History and Website Data.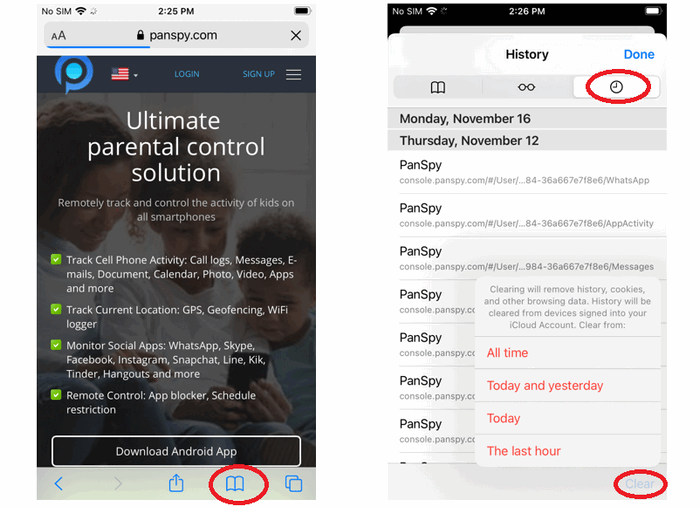 ---
Summary
In this short write-up, we come up with why people want to track others' browsing history and how to track someone's browsing history without phone in 2 ways. Frankly speaking, FamiKit and PanSpy can do more than tracking Internet history. Just download and give them a try! If you find this article helpful, share with your friends.