Track Private Browser History on Samsung Galaxy S21
With smartphones in hand, kids can access whatever they want; however, this is never a good thing without parental control. Websites of adult, violence, gamble and more are inappropriate for young kids. If you can physically access your kid's phone, then it might be quite easy to dig out their searching histories. But in most cases, parents are not able to do so. If you are worried about kid's online behaviors, this article will come up with top 3 apps to remotely track kid's private browser history on Samsung Galaxy S21 to ease your mind.
Top 1: FamiKit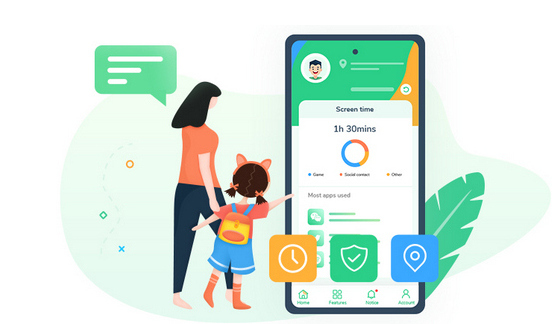 View kid's phone activities and get daily report
Set app time limits and restrict screen time
Track browser histories and block unwanted websites
Get real-time location and track location histories
Set geofences and get alerts
Detect risky words on browsers and social apps
Monitor YouTube watching histories and block videos
To track kid's private browser history on Samsung Galaxy S21 with FamiKit, all you need to do is to follow the instructions below:
Step 1: Create a FamiKit Account
Sign up to create a FamiKit account with email. Also you may register on either your phone or your kid's phone. The same account is applicable to both devices.
Step 2: Set up FamiKit on Kid's Samsung Galaxy S21
Go to kid's Samsung Galaxy S21 and search FamiKit on Google Play to download and install this app. Launch the app and sign in your FamiKit account. Select kid's role and follow the instructions given on the screen to fully authorize permissions required. After that, your kid can't not uninstall this app without your password.
Step 3: Back to Parent's Device to Track Private Browser History
Now on parent's device, simply tap on Features >> Browser History, you can remotely access your kid's internet histories of Chrome, Firefox, Edge and other browsers for today, yesterday and even last 7 days. You can also tap on your kid's browsing histories and decide to block or not.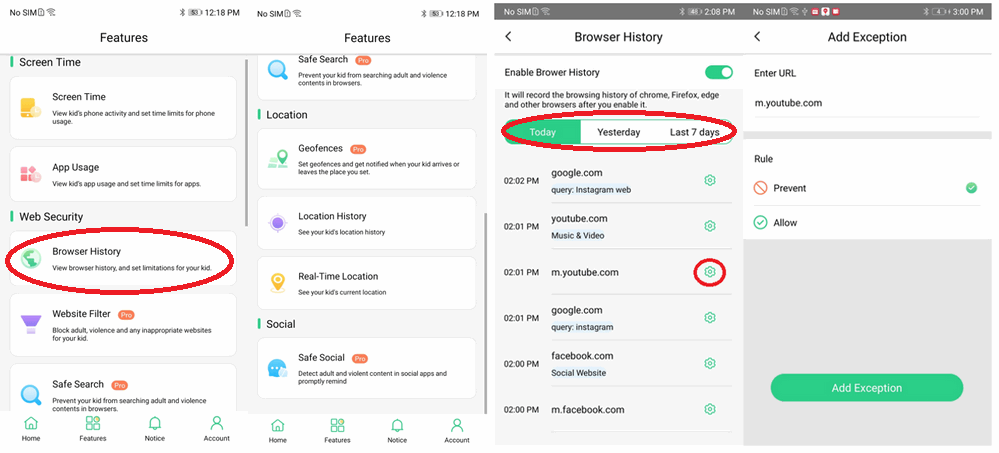 Step 4: Block Websites and Enable Safe Search
Tap on Website Filter, here you can remotely block websites by categories on kid's Samsung. You can also customize site access and block specific URL by tapping on Exception. Turn on Safe Search, FamiKit can detect risky words and prevent them from being searched on kid's Samsung Galaxy S21 with any browsers. Likewise, parents can customize their own risky words for kids to be detected by FamiKit.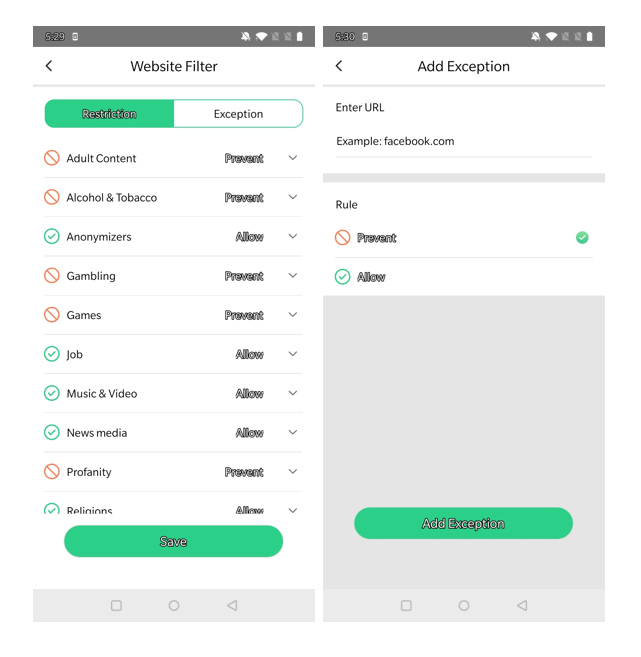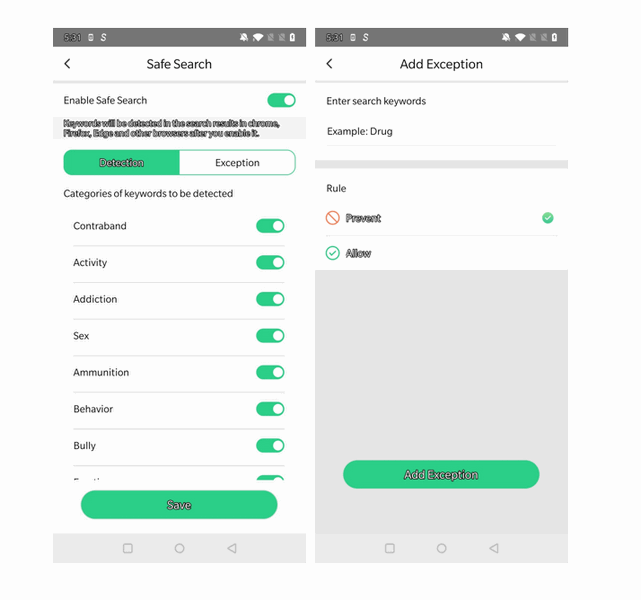 ---
Top 2: PanSpy
PanSpy is an all-in-one parental control app which can do a lot more than remotely tracking someone's online history. And let's find how to use PanSpy with the following steps.
Features of PanSpy
Track Cell Phone Activity: Contacts, Messages, Call logs, Phone call, E-mails, Document, Calendar, Photo, Video, Apps and more.
Track Current Location: GPS, Geofencing, WiFi logger.
Monitor Social Apps: WhatsApp, Skype, Facebook, Instagram, Snapchat, Line, Kik, Tinder, Hangouts and more.
Remote Control: App blocker, Schedule restriction, Screen time management, Website filter.
Sign up PanSpy
View the Demo
Step 1: Create a PanSpy Account
Firstly, sign up PanSpy with authentic email address. Then refer to the email sent by PanSpy support team to activate your account by yourself.
Step 2: Install PanSpy App on Samsung Galaxy S21
After you activate your account, now go to Samsung Galaxy S21 and visit panspy.me on browser to download and install PanSpy app on it with permissions required fully authorized. For how it works, you can also refer to this page.
Step 3: Remotely Track Browser History on Samsung Galaxy S21
Now, back to Visit PanSpy console panel with any browser, then tap on Browser History on the left panel to start remotely tracking web history on Samsung Galaxy S21. Here you will get the link of browsing websites and the records of day and time. Tap on Website Filter, PanSpy also enables parents to block websites by categories and customize site access. What's more, with PanSpy installed on kid's Samsung, parents can track more information such as contacts, messages, photos, videos, location, WhatsApp, Snapchat and more.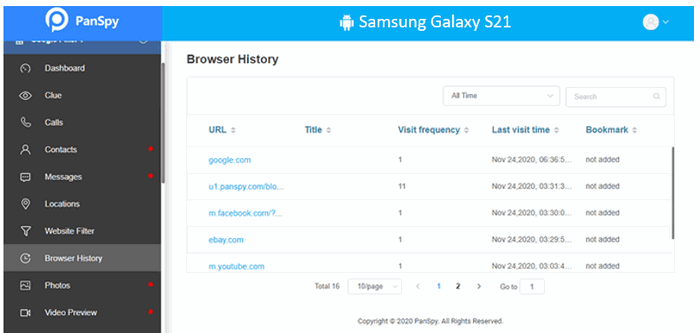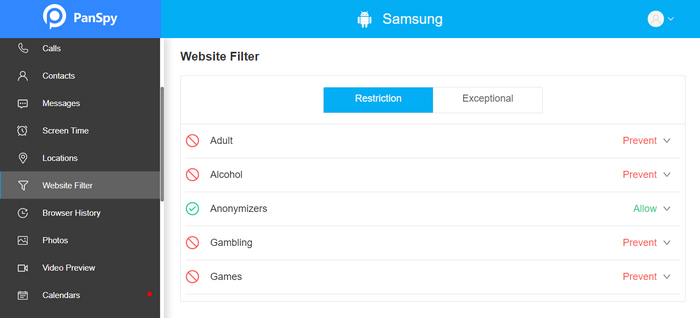 ---
Top 3: FamiSafe
FamiSafe is also able to track kid's web history but it doesn't offer free trial.
Features of FamiSafe
Web Filtering & Browse History
Location Tracking & Geo-fencing
App Blocker & App Activity Report
Screen Time Limit & Schedule
Explicit Content & Suspicious Photos Detection
Step 1: Install FamiSafe on both parent and kid's phones.
Step 2: Create your FamiSafe account.
Step 3: To view the cell phone history, go to the control panel and select the option of "Web History". Here, you can view a detailed the browsing history of the device with website URLs, timestamp, and more.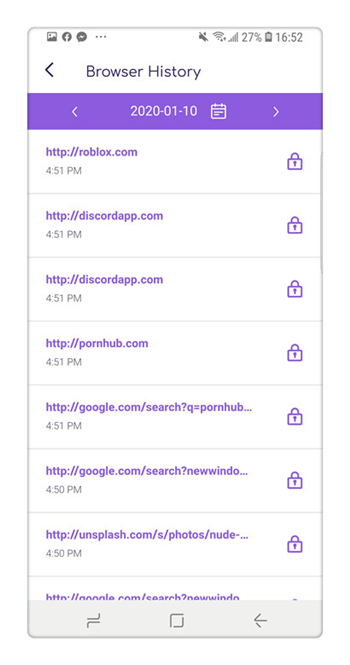 ---
Summary
Hopefully this guide is helpful when it comes to remotely track someone's browser history on Samsung Galaxy S21. We highly recommend FamiKit for most parents for this app can not only track kid's web histories and block websites, it also supports to detect risky words and prevent them from being searched on kid's smartphone. Importantly, guardians can use FamiKit to manage kid's screen time , set app time limits, track location and set geofencing and more.