4 Ways to Track and Locate Lost Samsung Galaxy S20
There exist a plenty of solutions to track and locate lost Samsung Galaxy S20, but most of us might only realize it when devices get lost. Well, that must be too late then. To find a lost Android phone, internet connection is necessary to transmit its location data. To get the best location results, an active connection to a WiFi network might be required. This article is going to show you 4 ways to track and locate your lost Samsung Galaxy S20. Also, you'll find out how to freely backup your Samsung device so that you don't have to worry about the data loss.
Part 1: Track and Locate Lost Samsung Galaxy S20 with Google Account
If you've added a Google Account to your Samsung Galaxy S20, Find My Device is automatically turned on. You can find, lock, or erase it when you lose an Android phone like Samsung Galaxy S20 / S20 Ultra.
Step 1: If you do nothing to your device before loss, then you are hard to find it. So be prepared in case of any loss. You don't need to install an app to track your devices. The only requirement is that your Android phone is connected to your Google account, turned on and connected to the internet.
Step 2: If your Samsung Galaxy S20 get lost, go to android.com/find and sign in to your Google Account (Or you can google "where is my phone" directly to enter in the website). Once the site is loaded it will automatically try to track down your lost phone. If you have several Android devices registered, make sure the right one is chosen in the menu. Then you can check the location of the lost phone. The location is approximate and might not be accurate. If your device can't be found, you'll see its last known location.
Step 3: On the map interface of Find My Device, Google provides you three options. Play sound: Rings your device at full volume for 5 minutes, even if it's set to silent or vibrate. Lock: Locks your device with your PIN, pattern, or password. If you don't have a lock, you can set one. To help someone return your device to you, you can add a message or phone number to the lock screen. Erase: Permanently deletes all data on your device (but might not delete SD cards). After you erase, Find My Device won't work on the device.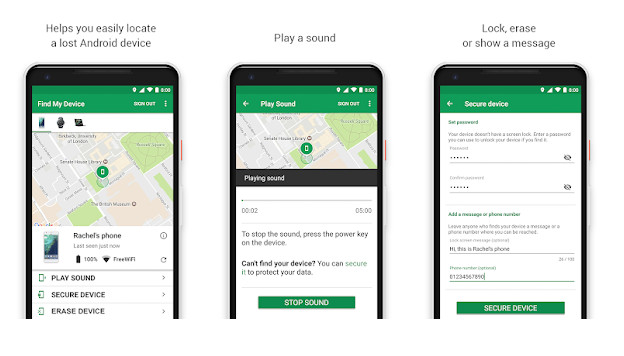 Part 2: Track and Locate Lost Samsung Galaxy S20 with Samsung Find My Mobile
As a Samsung user, also, you can use Find My Mobile provided by Samsung Company. In order to access your Galaxy S20 remotely, you will need access to your Samsung Account. It is the same email address or account that you use for different Samsung Services.
Step 1: Open the Find My Mobile website. Go to https://findmymobile.samsung.com/ in your browser. Then sing in with your Samsung account. Doing so will open a list of your Samsung phones and/or tablets.
Step 2: Select your Samsung. Click the phone that you want to lock down to do so. Review the Samsung Galaxy's location. Once the Samsung Galaxy's location loads, it will display in the middle of the page. But if your Samsung Galaxy is off or doesn't have an Internet connection, its location won't appear.
Step 3: Three options are available. You can choose to lock down your lost Samsung Galaxy S20, ring your device even if it's set to silent or vibrate, and wipe all data on your device. But if you choose to wipe all data on your device, this will prevent you from being able to track it anymore.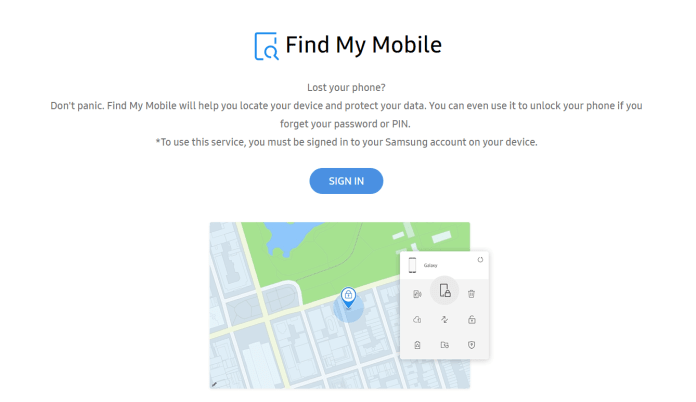 Part 3: Track and Locate Lost Samsung Galaxy S20 with PanSpy
PanSpy is an all-in-one mobile phone location tracking app for Android aimed at tracking someone's real-time location instantly and easily. Moreover, PanSpy works smoothly over both Android and iOS operating systems. With the help of this location tracker, you are able to monitor recent GPS location on a virtual map, watch through route history and check recent locations of target device. Apart from tracking someone's location, this mobile GPS location tracker also lets you spy on text messages, calls, Snapchat, WhatsApp, web browsing history, website bookmarks, calendar, photo, video, apps, E-mails, etc on target phone remotely and secretly.
With PanSpy, you can:
Track Cell Phone Activity: Call logs, Messages, E-mails, Document, Calendar, Photo, Video, Apps and more.
Track Current Location: GPS, Geofencing, WiFi logger.
Monitor Social Apps: WhatsApp, Skype, Facebook, Instagram, Snapchat, Line, Kik, Tinder, Hangouts and more.
Remote Control: App blocker, Schedule restriction.
Step 1: Create an Account
Visit PanSpy Official Website to create an account. Just tap on Sign UP button on the top right, enter your authentic email address instead of target one's and make a password of it. After a while, you'll receive a confirmation link in your email box. Once you activate it, you can follow the setup wizard to finish setup procedures.
Step 2: Install PanSpy App on Samsung Galaxy S20
Go to target Android and enter panspy.me on browser to install PanSpy app on it. Then login your account which you previously registered with to authorize PanSpy to access data on monitored device according to instructions given on screen. Finally you are able to decide to keep the app icon or not.
Step 3: Locate Lost Samsung Galaxy S20
After finished the setup process on target device, turn back to the control panel on your computer. All supported features are listed on the panel so that you can click each category to view the data. To track and locate lost Samsung Galaxy S20, simply click on Locations tab on the left side of the dashboard. You can also set Geofences to get notices.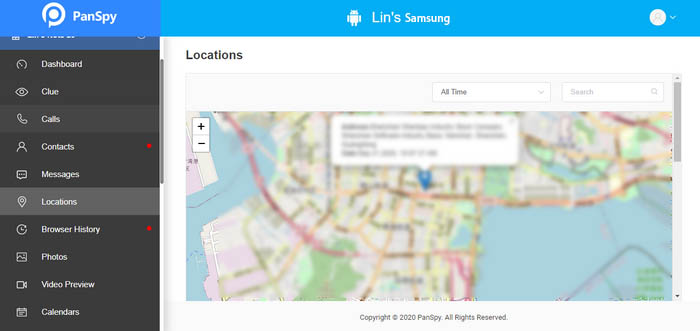 Part 4: Track and Locate Lost Android with FamiKit
FamiKit is a professional parental control app, which is designed for parents to monitor their kids. By installing this app on your target device, you are able to know its real-time location. If it is for kid, you can set a GEO-fence, block inappropriate contents and set time limits. To track lost Android with FamiKit, you can follow the steps below:
Features of FamiKit:
View kid's screen time and set time restrictions for smartphone usage.
View app usage data and limit app usage.
Enable web filter to keep kids from unwanted websites.
Track real-time location and set geofences and get notice when they arrives or leaves the place.
Step 1: Download FamiKit app
Firstly, go to FamiKit Official Website and find its download page, click on the download button to download and install the app to your device.
Step 2: Step 2: Set up Permissions
Open FamiKit app, simply register an account with an email address. After that, sign in your account and select Kid option to continue. And then you need to follow the instructions given to set up the app on your device. After several simple clicks, your device now is ready.
Step 3: Start Tracking
If your device unfortunately get lost and you want to recover it, you just install FamiKit app on another device (or you can log in FamiKit console panel), sign it your account and remember to choose Parent when asking Who use this device. Then you'll be redirected to Home page on the top of which you'll get real-time Location. And you can tap on Features" > Geofencing to create a geofence then you will be notified when the person who holds your device leaves the area.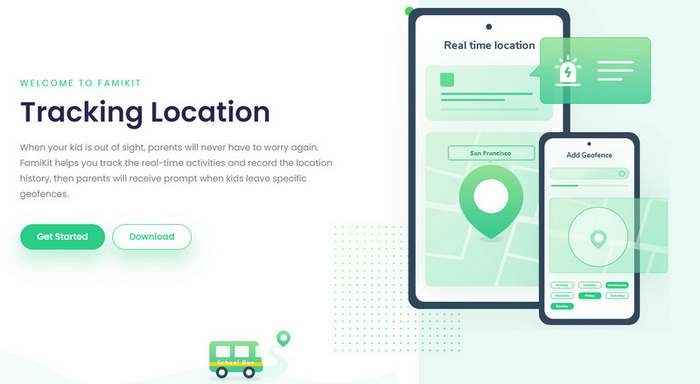 Extra: Backup Samsung with Free Syncios Ultimate
Regularly data backup will ease your mind when you lost your phone by accident. There are not options like iOS device which can use iCloud or iTunes to back up data. Never mind, you can turn to a third-party program like free Syncios Ultimate which is capable of transferring data between Android/iOS and computer as you like. I'll break it down for you.
Step 1: Download free Syncios Ultimate on your computer and run it.
Step 2: Connect your Samsung to computer via USB cable. You can refer to this page in case of any device detection problem.
Step 3: Then you are good to go. You can back up data like contacts, messages, photos, videos, audio files, applications and more from your device to computer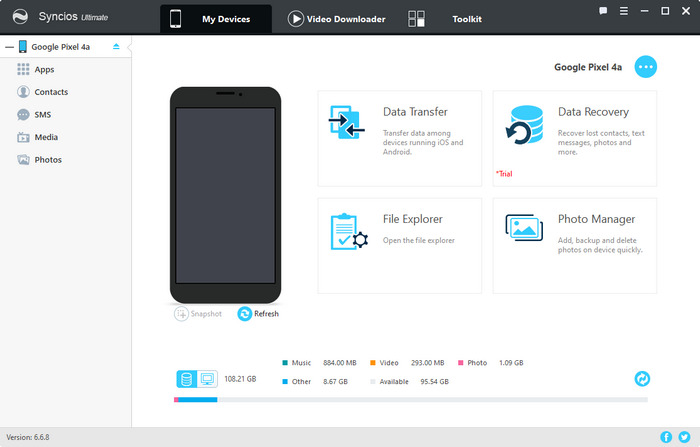 Summary
In this article, we introduced 4 ways to track and locate lost Samsung Galaxy S20 as well as how to back up Samsung device. Hopefully they can be life-saver when you unfortunately lost your device. If you want to track phone activities like contacts, messages, photos, videos, WhatsApp, SnapChat and more of Android device, you can try PanSpy. For parents who would like to set up parental control on their kids' Android, we highly recommend you to give FamiKit a shot!