How Much Screen Time is Good for Kids?
Digital devices have pros and cons just like everything else. Kids can benefit from educational contents on the Internet, but they can be exposed to inappropriate stuffs as well. While talking about the use of screens, there is no one-size-fits-all approach to apply to. This article is aimed to give reference for those who ask about how much screen time is good for kids. At the same time, you'll learn useful advices on how to limit kid's screen time. Let's get started!
Part 1: How Much Screen Time is Good for Kids?
As the latest screen limit guidelines released by American Academy of Pediatrics (AAP), parents can refer as bellows for how much screen time is good for kids:
For children younger than 18 months, use of screen media other than video-chatting should be discouraged.
For children of 18 to 24 months, parents can choose high-quality apps and use them together with children. Letting children use media by themselves should be avoided.
For children 2 to 5 years, limit screen use to no more than 1 hour or less per day of high-quality programming and co-view with them. Find other activities that are healthy for the body and mind (e.g., reading, teaching, talking, and playing together).
For children 5-18, there is no such limit prescribed. But there should be a well-defined routine like time for sleep, physical activity, family meals, school and friends.
Parents are encouraged to develop personalized media use plans for their children. Media plans should take into account each child's age, health, personality, and developmental stage.
Part 2: How to Limit Kid's Screen Time?
1. Be a Good Role Model
Parents are child's first teachers and kids will mimic what parents do. If you read books or engage in physical activities, your kids will be likely shaped and polished by this kind of family atmosphere. So, it is essential for parents to establish a good role model which is to set healthy limits on your own electronics use.
2. Supervise Kids's Phone Activities
We need to establish rules about what social apps or websites kids can access. Monitor your kids' phone activities and turn media mistakes into teachable moments. There are monitoring apps like PanSpy which gives parents opportunities to access kids' contacts, messages, photos, videos, browser histories, real-time location, WhatsApp, Facebook, Twitter, Skype, WeChat and more. If you want to know how to use PanSpy to supervise kids' phone activities, just refer to the following:
Step 1: Visit PanSpy official website to create an account with your authentic email. After a while, you will get a confirmation email to activate your account.
Step 2: Follow the set-up wizard after you click the activation link to install PanSpy app on kid's Android with permissions required fully authorized.
Step 3: Back to PanSpy console panel to start supervising kid's phone activities.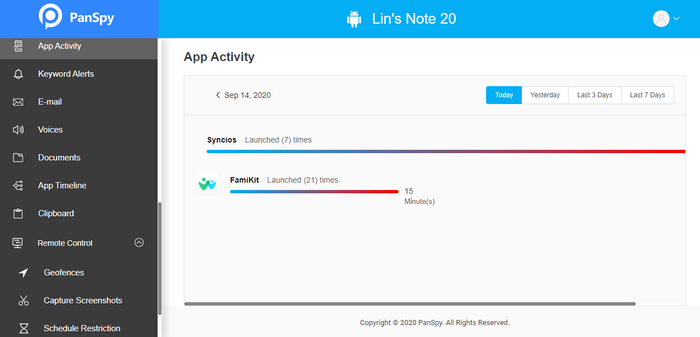 3. Establish Screen Time Limits
Parents should set up reasonable time limits regarding kids' smartphone usage as too much screen time will undoubtedly cause problems. For instance, excessive screen time on video games will affect eye sight and seduce kids being violence. For those kids who spend much time on TV shows or Internet are more inclined to have emotional, social, and attention problems. Most kids can't handle unlimited access to their electronics, so it is parents' duty to set time limits and keep children physically and mentally healthy.
If you want to view kid's phone activities and set time restrictions on it, we recommend you to give FamiKit a shot. It is a parental control solution provider for checking and limiting screen time. Besides, you can use FamiKit to filter unwanted websites like porn or adult contents, violence and more. Real-time location tracking and geo-fencing are supported as well. Just follow the steps below to know how to get it done:
Step 1: Create an Account. Visit FamiKit official website then go to Sign UP to create a FamiKit account with email. Or you can create one after you install the FamiKit app.
Step 2: Install App. Go to download page to install FamiKit app on parent device then login with your account. Select Parent when asking "Who use this device". Likewise, install FamiKit app on child device and login with the same account. You should select kid's role this time and then follow the instructions given to fully authorize permissions required.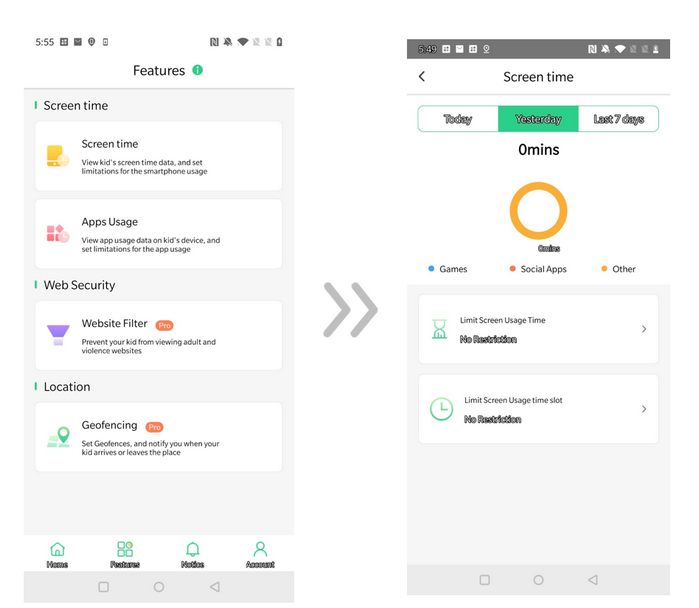 Step 3: Check and Limit Screen Time. After FamiKit is fully set up on child device, now you can refer to parent device. In the Home page, you'll get kid's total screen time for today, yesterday or last 7 days which will be divided into Games, Social Apps and Other. Also, you will be informed of the Most apps used. Go to Features, parents can both limit screen usage time or screen usage time slot.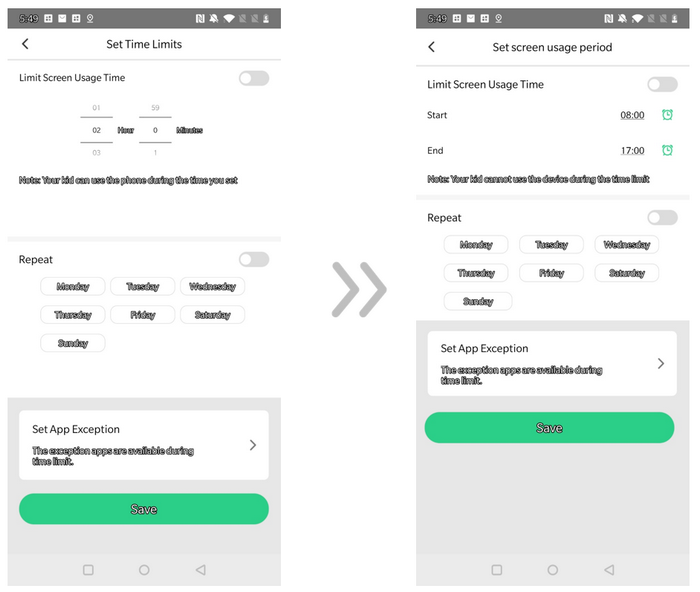 Summary
Above, we give screen time suggestions which differ in ages according to AAP. Although not all screen time is created equal, it is necessary for parents to set smart schedule for kids on smartphone usage with parental control apps like PanSpy or FamiKit. Hopefully with these apps, a nurturing space can be created for kids.