How to Track and Locate Lost iPhone 12 and Android?
New mobile-phone models are constantly engineered to meet the needs of consumers with multifunctional tools that are useful in everyday life. Apple just introduced its newest flagship iPhone 12 and iPhone 12 mini on October 13, 2020 which offer powerful features at an affordable price tag. Still there are people who prefer to use Android. No matter for iOS or Android users, it is definitely a big headache when their devices get lost. So in this article, we are going to compile several useful ways to track and locate lost iPhone 12 and Android for you.
Part 1: Track and Locate Lost iPhone 12 with Find My iPhone
Step 1: Enable Find My iPhone
To make sure Find My iPhone is activated on your device, go to Settings, tap on your account at the top, and select Find My to enable Find My iPhone and Share My Location.
Step 2: Use Find My iPhone
If you've lost or misplaced a device and you want to recover it, just use the Find My app on another iOS device or Mac with the same Apple ID signed in. You can also use the Find My app on a device owned by someone in your Family Sharing group, or sign in to iCloud.com/find to locate your device using a browser.
Step 3: Start Locating
After sign in your Apple ID, you'll be presented with a list of all of the devices linked to your iCloud account as well as a map giving you a pretty precise idea of where your devices are. Each device contained within the list has a colored dot next to it on the left. If that dot is greyed out, then Find My iPhone was not able to locate that device. There could be many reason for this: perhaps the device has exhausted its battery life, it doesn't have an Internet connection, or the device was turned off. If the bubble next to the device is green, then you're in business. This means that Find My iPhone was able to track the device via GPS or Wi-Fi triangulation. Tap the device to load the info page for that device. This provides a map of the device's location, along with several additional options like Play Sound or Erase iPhone Data.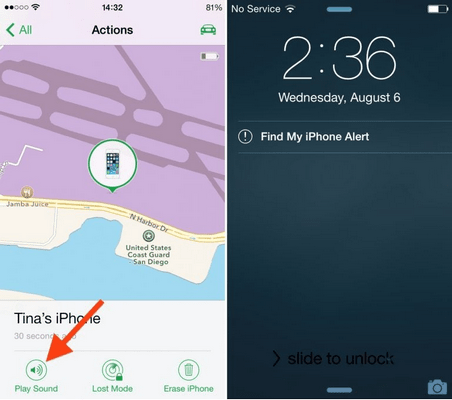 Part 2: Track and Locate Lost iPhone 12 with Apple Watch
Step 1: Connect the Apple Watch to the same network as your iPhone. The Apple Watch and iPhone must be connected via Bluetooth or to the same Wi-Fi network.
Step 2: Swipe up on the face of your Apple Watch. This brings up the Glances menu.
Step 3: Tap on the "ping" button. This button is located below the Airplane Mode, Do Not Disturb and Silent Mode buttons. After tapping on the ping button, your iPhone will emit a brief pinging sound to help you locate the device, even if silent mode is enabled.
Step 4: Continue tapping on the ping button as needed to locate your nearby iPhone. Tap and hold the ping button to have your iPhone flash its LED light. This can be helpful when trying to locate your iPhone at nighttime or in the dark.
Part 3: Track and Locate Lost Android with Google Account
To track and locate or even erase your lost Android, the device needs to be connected to mobile data or Wi-Fi along with Location and Find My Device turned on. Also you need to have access to your Google account that you used on your phone for the Google Play Store.
Step 1: Go to Google Find My Device and sign in to your google account. Just tap on your lost phone on the top left of the interface if you have more than one phone.
Step 2: On the map, you'll figure out where your lost Google Pixel 4a is. You should be noted that the location is approximate not that accurate enough.
Step 3: On the left panel, you will find options like Ring, Lock and Erase.
Part 4: Track and Locate Lost Android with PanSpy
PanSpy is an all-in-one mobile phone location tracking app for Android aimed at tracking someone's real-time location instantly and easily. Moreover, PanSpy works smoothly over both Android and iOS operating systems. With the help of this location tracker, you are able to monitor recent GPS location on a virtual map, watch through route history and check recent locations of target device. Apart from tracking someone's location, this mobile GPS location tracker also lets you spy on text messages, calls, Snapchat, WhatsApp, web browsing history, website bookmarks, calendar, photo, video, apps, E-mails, etc on target phone remotely and secretly.
With PanSpy, you can:
Track Cell Phone Activity: Call logs, Messages, E-mails, Document, Calendar, Photo, Video, Apps and more.
Track Current Location: GPS, Geofencing, WiFi logger.
Monitor Social Apps: WhatsApp, Skype, Facebook, Instagram, Snapchat, Line, Kik, Tinder, Hangouts and more.
Remote Control: App blocker, Schedule restriction.
Step 1: Create an Account
Visit PanSpy Official Website to create an account. Just tap on Sign UP button on the top right, enter your authentic email address instead of target one's and make a password of it. After a while, you'll receive a confirmation link in your email box. Once you activate it, you can follow the setup wizard to finish setup procedures.
Step 2: Install PanSpy App on Android
Go to target Android and enter panspy.me on browser to install PanSpy app on it. Then login your account which you previously registered with to authorize PanSpy to access data on monitored device according to instructions given on screen. Finally you are able to decide to keep the app icon or not.
Step 3: Track Location
After finished the setup process on target device, turn back to the control panel on your computer. All supported features are listed on the panel so that you can click each category to view the data. To track Android's location, simply click on Locations tab on the left side of the dashboard. You can also set Geofences to get notices.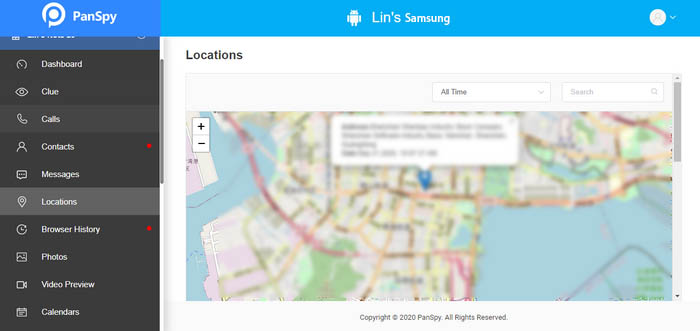 Part 5: Track and Locate Lost Android with FamiKit
FamiKit is a professional parental control app, which is designed for parents to monitor their kids. By installing this app on your target device, you are able to know its real-time location. If it is for kid, you can set a GEO-fence, block inappropriate contents and set time limits. To track lost Android with FamiKit, you can follow the steps below:
Features of FamiKit:
View kid's screen time and set time restrictions for smartphone usage.
View app usage data and limit app usage.
Enable web filter to keep kids from unwanted websites.
Track real-time location and set geofences and get notice when they arrives or leaves the place.
Step 1: Download FamiKit app
Firstly, go to FamiKit Official Website and find its download page, click on the download button to download and install the app to your device.
Step 2: Step 2: Set up Permissions
Open FamiKit app, simply register an account with an email address. After that, sign in your account and select Kid option to continue. And then you need to follow the instructions given to set up the app on your device. After several simple clicks, your device now is ready.
Step 3: Start Tracking
If your device unfortunately get lost and you want to recover it, you just install FamiKit app on another device (or you can log in FamiKit console panel), sign it your account and remember to choose Parent when asking Who use this device. Then you'll be redirected to Home page on the top of which you'll get real-time Location. And you can tap on Features" > Geofencing to create a geofence then you will be notified when the person who holds your device leaves the area.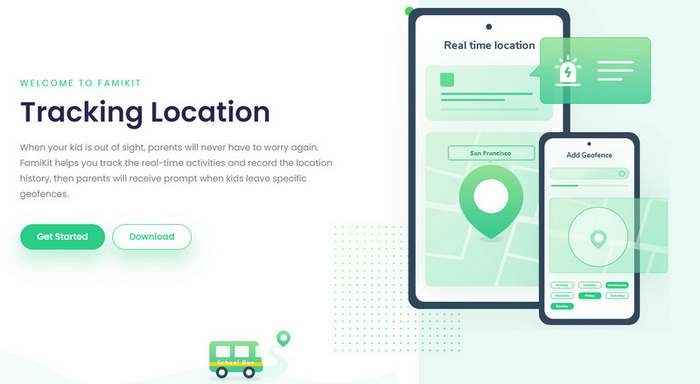 Extra: Backup iPhone 12 and Android with Free Syncios Ultimate
Regularly data backup will ease your mind when you lost your phone by accident. You can turn to a third-party program like free Syncios Ultimate which is able to back up your iPhone or Android to computer as you like. Also there are other useful toolkits waited to be discovered like Ringtone Maker, YouTube downloader and more. I'll break it down for you.
Step 1: Download free Syncios Ultimate on your computer and run it.
Step 2: Connect your iOS or Android to computer via USB cable. You can refer to Android or iOS in case of any device detection problem.
Step 3: Then you are good to go. You can back up data like contacts, messages, photos, videos, audio files, applications and more from your device to computer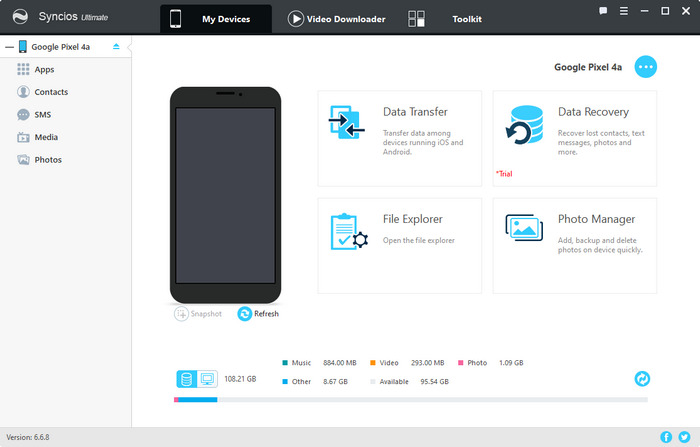 Summary
Above we introduced 2 ways to locate lost iPhone 12 and 3 approaches to track lost Android as well as how to back up iOS and Android. Hopefully there is one that suits you. If you would like more functions not just for location tracking, you can try PanSpy for monitoring phone activities such as contacts, messages, social apps and FamiKit for parental control like screen time limit, web filter, geofences and more.