4 Ways to Monitor Kid's YouTube Watch History & Search
YouTube has emerged as an alternative to traditional TV and tens of millions of children are spending time on it. Co-viewing is great to know what kids are browsing on YouTube, but it is unavoidable that your kids may secretly access YouTube shows. So how to find out whether your kids are exposed to inappropriate videos and ads or toxic comment section? No worry! In this article, we'll show you 4 ways to monitor kid's YouTube watch history and search.
Part 1: Watch YouTube shows with Kids
The most easy and convenient way to monitor your kid's YouTube watch history is to watch YouTube shows with your kid so that you can prevent them from viewing anything inappropriate or catch the unsafe videos right away. Parents can also set rules that YouTube watching is only allowed in public areas or with someone around. This method is quite straightforward but parents with tight schedules are not always available to keep an eye on kid's YouTube activities.
Part 2: Have a shared family account for YouTube
YouTube enables users to view history across all devices using the same account. Make a shared account for kids to watch YouTube so that you can keep track of their watch history on youtube.com even if you are not on the same device. And here is how to do it:
Step 1: Visit YouTube official website and sign in with the shared family account that your kid uses to watch YouTube.
Step 2: Tap History on the left panel and you can keep track of what your kid viewed on YouTube.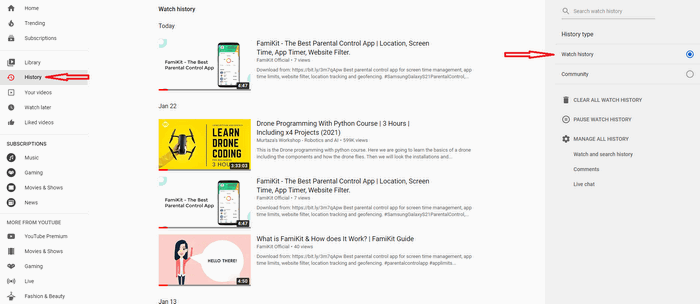 Part 3: Manually check kid's YouTube app
If you have access to your kid's device, you can check the YouTube app to find its watch history and search by yourself.
Step 1: Open the YouTube app on your kid's phone, click on the Search icon and then the search history should pull right up letting you know all the searches in YouTube.
Step 2: For viewing the watch history, click on the Library icon and then tap History. Then you can find all kid's YouTube watch history.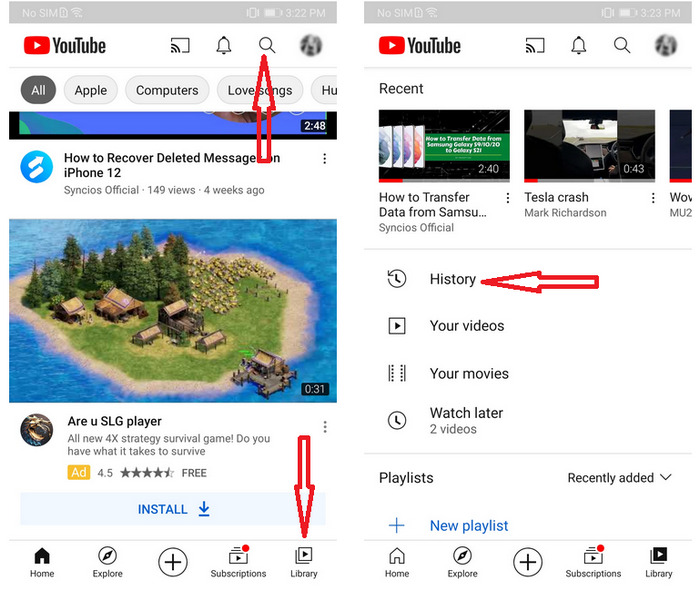 Parents should note that kids may manually delete the search and history if you find both of them are blank, which is clearly an evidence that they have been watched something they shouldn't be.
Part 4: Use FamiKit to remotely monitor YouTube watch history
If your kid delete YouTube watch history after viewed them then you have no chance to figure out what he or she was watching. In this case, we suggest parents use FamiKit parental control app to remotely monitor kid's YouTube history or search in a real-time manner. Importantly, parents or guardians can use this app to limit YouTube screen time and block videos or channels. Let's follow the steps below to figure out how to use FamiKit to remotely monitor kid's YouTube watch history.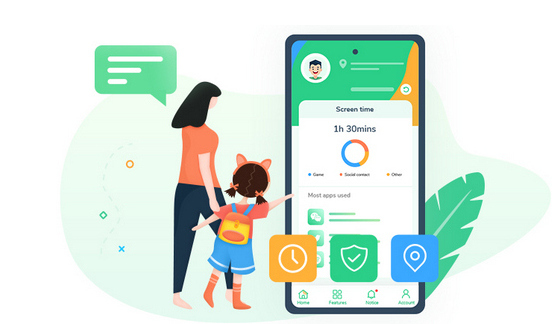 View kid's phone activities and get daily report
Create smart schedules and curfews
Track browser history and block porn or any unwanted websites
Get real-time location and track location histories
Set geofences and be notified
Detect risky words on browsers and social apps
Monitor YouTube history and block videos or channels
Step 1: Sign up FamiKit with email to create a FamiKit account.
Step 2: Go to kid's device to download and install FamiKit from Google Play Store. Launch the FamiKit app on kid's device and sign in with the account you created before, and select kid's role to grant permissions required according to the instructions given on the screen.
Step 3: Back to parent's device and install the FamiKit in the same way. Launch FamiKit app and sign in with the account, and select parent's role to start remotely tracking kid's YouTube watch history.
Step 4: Monitor YouTube History. Tap Features > YouTube History then toggle on the switch next to Enable YouTube History. Under the History, parents can track all kid's YouTube watch histories.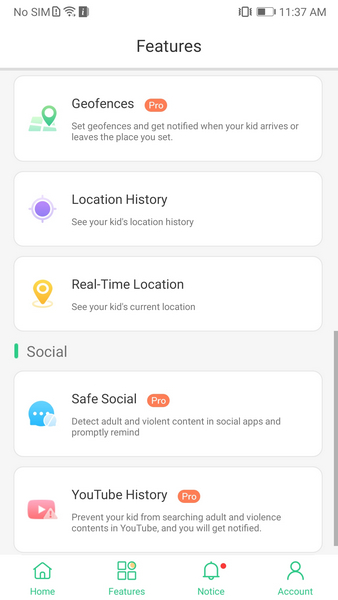 Step 5: Block YouTube Videos or Channels. If you find your kids are exposed to inappropriate videos or channels, you can just toggle off the switch next to the YouTube watch history and choose Block This Video or Block This Channel. Then you can find those that are blocked under Exception. If you want to unblock it, just tap the cross icon.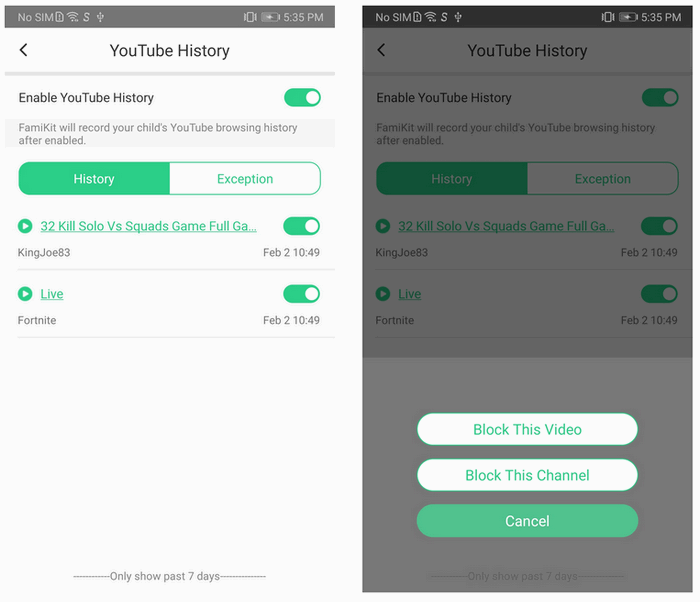 Step 6: Block inappropriate YouTube videos or unsafe sites for most browsers. Tap Features > Browser History to toggle on the switch next to Enable Browser History, parents can remotely track kid's visited sites in Chrome, Firefox, Edge and more. Tap the gear icon beside web history, parents are offered chance to forbid the site access. Tap Features > Websites Filter, parents can block unsafe sites by categories together with adding exception to customize site access. Tap Features > Safe Search, FamiKit can prevent kids from searching any unsafe contents in various browsers.
Step 7: Set app time limits on YouTube. Tap Features > App Usage, parents can track how much time is spent in YouTube. Tap Set time limits for apps and select YouTube, FamiKit gives parents opportunities to set maximum time that YouTube can be used or block the YouTube during a certain period.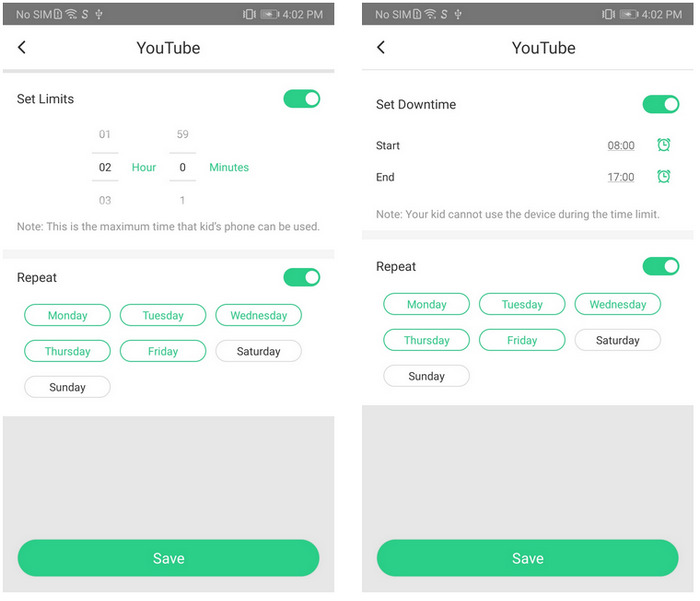 Summary
With FamiKit, it is quite easy for parents to remotely track kid's YouTube watch history in real-time manner and even block the videos or channels. As a multi-functional parental control app, FamiKit also supports screen time management, browser history monitoring, website filter, location tracking, geofences and more.